Finding a good commercial enchilada sauce is really difficult. Even the Hatch brand is tepid at best. So, we decided to make our own green enchilada sauce, and it turned out to be really good, not only as a sauce, but also as a salsa. The consistency is chunky, unlike the commercial offerings, and has many layers of flavor. We like our sauce to be savory and mild, as the really hot stuff masks the flavor of the enchiladas. We think you will enjoy it.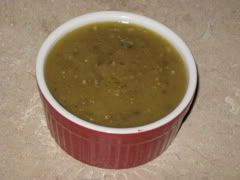 Ingredients:
12 medium tomatillos, cut in half and cored
2 poblano peppers, cut in half
2 ancho peppers, cut in half
2 jalapeño or cayenne peppers, cut in half
2 fresh hatch chilis, cut in half, or 1 can (4 oz.) fire roasted hatch chilis
1 large yellow onion, coarsely chopped.
6 large cloves garlic, crushed and minced
6 tbs EVOO
1½ cups chicken broth
¼ C cilantro, coarsely chopped
1 tbs ground cumin
salt and cracked black pepper to taste
Putting it together:
In a large glass baking pan, place the tomatillos and peppers cut side down and drizzle with half of the EVOO. Place in a 350 deg oven and roast for 30 minutes or until the skin is releasing from the peppers. Remove from the oven and place the peppers in a paper bag to complete the releasing of the skin, then peel.

In a medium skillet, add the remainder of the EVOO and the onions and cook until translucent. Add the garlic and cook until soft.

Place the tomatillos, chilis (if you are using the canned Hatch chilis, add them now), onions, garlic, and cilantro, along with the liquid from the roasting pan, in a food processor with a steel knife. Pulse until the mixture is chunky.

Place the processed tomatillos and chilis, broth, and cumin in a large saucepan and bring to a boil. Reduce heat to a simmer and cover. Continue cooking for about 20 minutes. Adjust seasoning, and cool to room temperature.

Use the sauce warm, refrigerate for later (lasts about two weeks), or freeze.
Tags: cooking, Food, Mexican food, Recipes